What are the types of web hosting?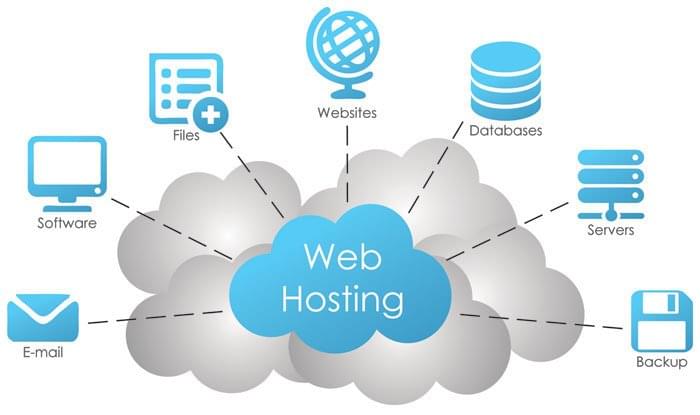 There is no specific number of sites hosted by the server, as the number of sites hosted by the server varies by country
The specifications of the server itself and according to the nature of these sites that are hosted on it.
There are servers dedicated to shared hosting that host dozens of websites, and other servers that host thousands of websites.
And all this according to the capabilities of the server and the nature of the sites, as we said previously, as the server with high capabilities can host a larger number
of sites and vice versa, in addition to that sites that need a large storage space and a large amount of "bandwidth" data transfer reduce
From the number of sites that are hosted with it on the same server.
Before you start reading the types, you can read this topic
أنواع استضافة الويب

#
There are different types of web hosting:
1-  Free Hosting #
It is a service provided by some hosting companies in order for their customers to know the benefits of paid hosting, so they advertise it.
It gives you the enjoyment of paid hosting features, but with limits.
Among its disadvantages are: #
Annoying ads that it places on its customers' websites
Providing a very limited space ranging from 1-2 GB, while paid hosting offers a space of up to 100 GB
Insufficient protection of website data
Hosting provides e-mail, but it is used for sending and receiving in a very limited way.
Use a limited number of sub-hosts from 3-6 domains only
Websites that are based on free hosting are usually not compatible with search engines
It is difficult for visitors to access it except by entering the specified link.
The difference between free and paid hosting was explained
Advantages : #
1- The lowest cost starts at Hayat Host from 1.66 per month
2- Strong servers
3- Unlimited email accounts
4- Customer service and technical support 24 hours a day
5- CloudFlare is available to protect your website from attacks
6- You don't need to have technical knowledge to manage your site
Its disadvantages: #
1- Your online website is placed on the same server as many other websites
2- This type is the most popular and cheapest of all other types of hosting on the Internet.
3-Allocating a specific part of the server resources to the sites hosted on the server
Therefore, we recommend the following hosting from Hyyat Host #
Arabic hosting with global advantages, with plans and prices that suit you #
Advantages : #
1- This hosting is suitable for large sites (the number of visits is large) and companies
2- Resources dedicated to your site and not shared, such as a private server for your site
3- Their prices start at 290 riyals
4- The number of databases is infinite
5-Unlimited email
6- The number of FTP accounts is an infinite number
7- 24/7 technical support
8-Backup
9- The servers are installed on Lightspeed and Cloud Linux
Its disadvantages: #
There are almost no defects in this hosting other than that it is not intended for small sites
I was reckless to explain What are the types of web hosting?
Greetings from the Hyyat Host team for website design and use #