How to create a developer account on Google Play Developer Console
In this lesson, we explain how to create a Google Play account for developers, to upload your application to it after you make a modification to it.
What is a google play developer account?
#
Google Play developer account is a Google account, but for developers.
So that you can upload your applications and games and modify them as you like through your account control panel.
You can publish applications, stop publishing them, or modify information such as name, description, photos, and everything related to the application.
In addition to the information of the application developer, such as the website (not mandatory), email, phone number, and more information,
Through this account, you can also see all the statistics of your applications, such as the number of daily downloads, the type of devices from which your applications are downloaded, the errors that may appear on your applications during their use, the evaluations of your applications, and other information.
Through the Google Play developer account, you can also manage your applications and games and add some features such as (Google Play Game Services) through which you can add a leaderboard for games and some other features.
What do you need to create a developer account in Google Play?
#
To create a new developer account in Google Play, you will need a bank card with a balance of $ 25, a Google account, and an email (you can use Gmail mail)
How to create a developer account in Google Play?
#
In order to do that, you must do the following:
1- Create a developer account on Google Play and then log into the account control panel.
#
To create a new developer account for $25, click on this link:
Create a new developer account
This image will appear to you if you are not logged in with the email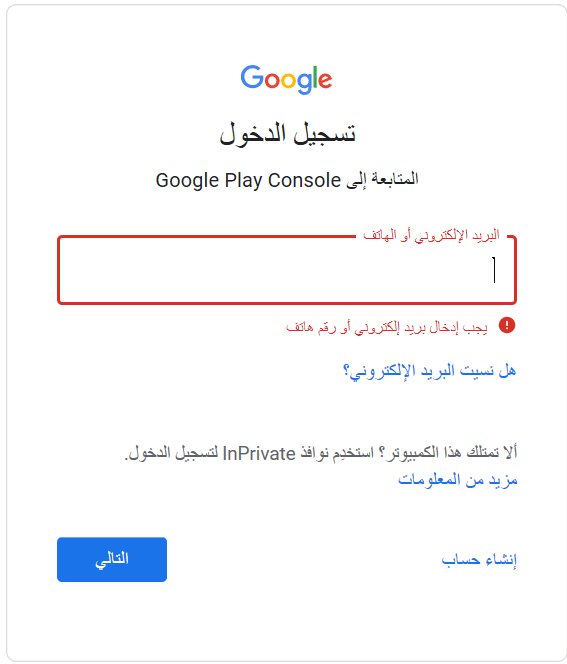 Enter your email and password
2- This image will show you the following:
#
(This is the Google account that will be associated with the developer console).
And agree to the terms I agree below.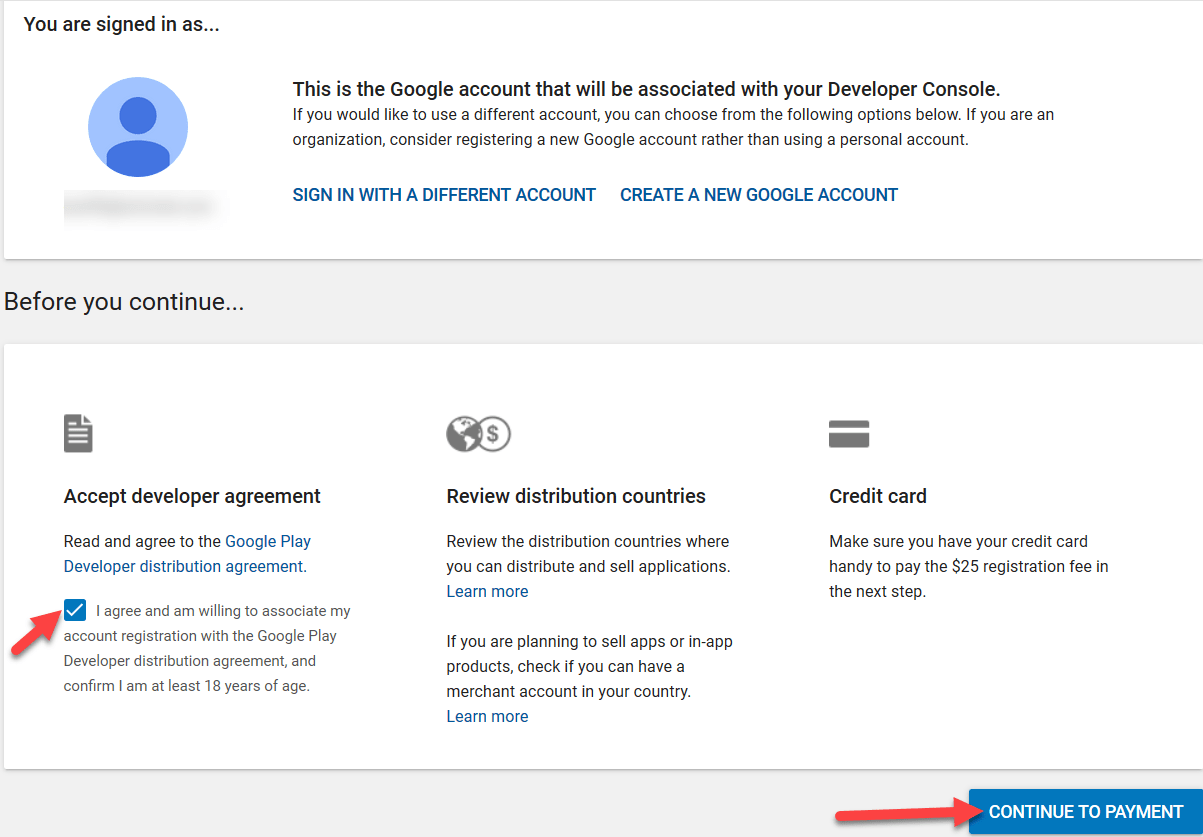 Then we click on continue to payment
3- Enter your bank card information as shown in the following image:
#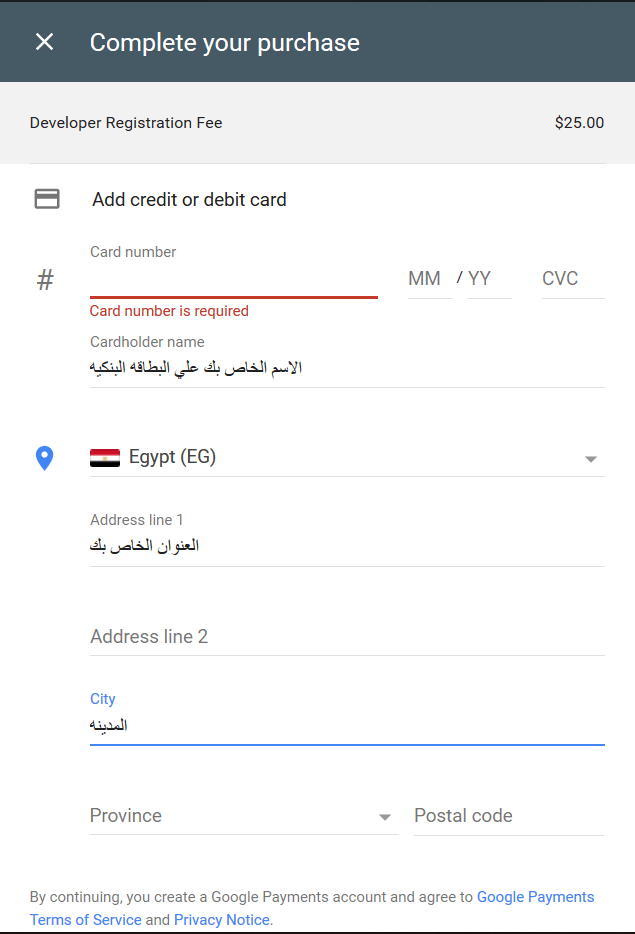 Then press "PAY".

4- If the payment is successful, you will see a message stating "Your payment is complete", click on "Continue registration".
#
5- Enter your information as follows:
#
In "Developer name" enter the name of the developer, you can enter your personal name or your company name or any name and it will appear next to the name of your application in the App Store, in "Email address" enter your email, in "Website" you can enter your website link or leave it blank In "Phone number", enter your phone number, then click "Complete registration".
6- Wait a while, and you will be transferred to your account control panel in Google Play developers like this.
#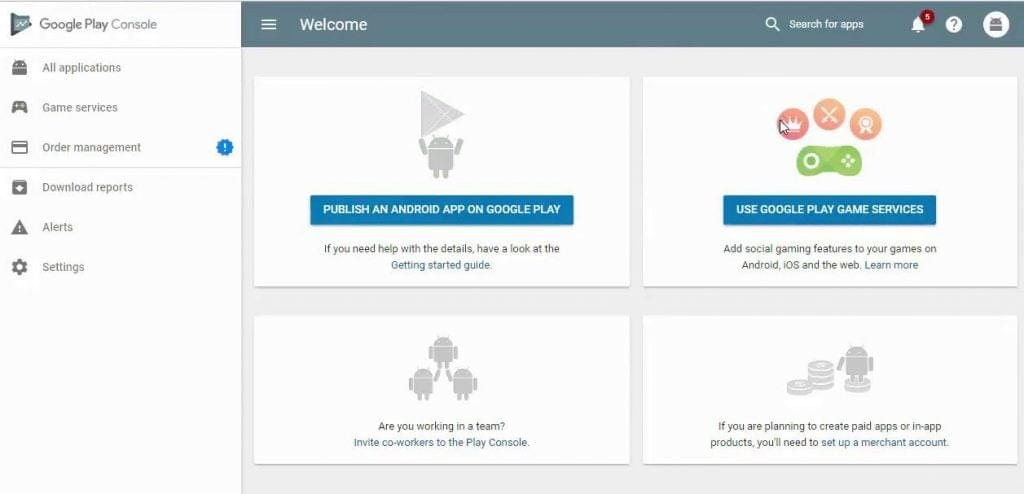 Here the registration process has been completed successfully for an explanation
And now you can upload Android applications as you like, and there is no specific number of applications that you can upload, as you can upload endless applications, provided that they are compatible with the privacy policy and terms of use of Google Play.
There is another type of account within Google Play for developers, which is a merchant account, which is a free account affiliated with the main account that you created, and through it you can upload paid applications to the Google Play Store.
However, not all countries are supported. To activate this commercial account, and to find out if your country is supported or not, you can visit this link:
Supported countries to create a business account
Greetings from the Hayyt Host team #